Holiday Items for Sale
Christmas Items



Ornate resin figuring, 12 inches tall, good condition. $5.



Brass horn decorated with an artificial swag of pine, pine cones, holly berries and plaid ribbon. With a red string for hanging. With original box. $3.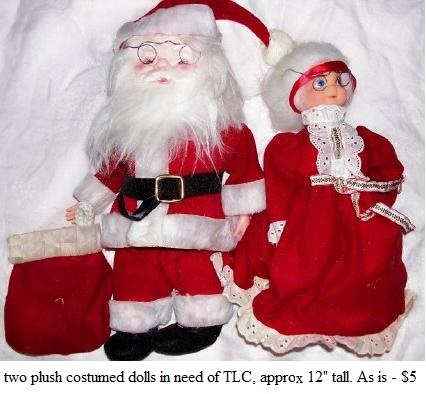 Two had-made dolls approx. 10 inches tall. Costumes need cleaning and Santa's head needs gluing. As is - $3.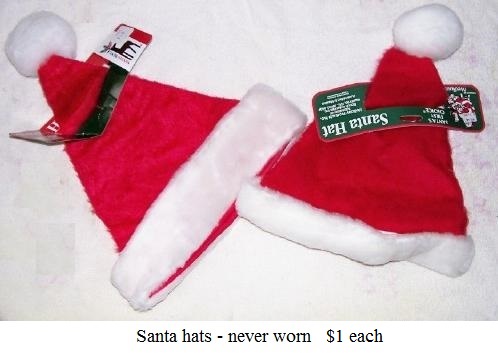 Two plush Santa hats never used. Orig $4 each. I'm asking $1 each.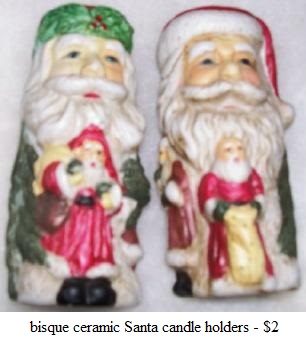 Ceramic candle holders are approx. 6" tall, one depicts the more American style Santa and the other is more like the traditional European Father Christmas. $2 for both.



Soft cover holiday book with crafting and decorating ideas. $1.


24" tall pine cone tree on wooden base and decorated with small ornaments and ribbons. Has angel topper and working lights. $5.



Felt tree wall decoration from the 1960s, decorated with yarn flowers. Approx 14" long. $1.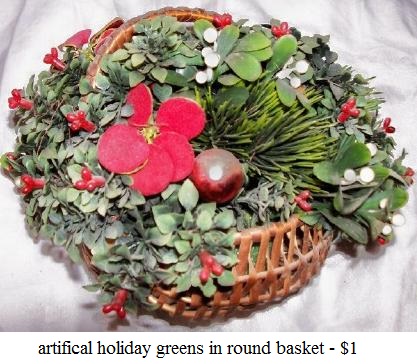 Small basket filled with artificial mistletoe and holly. $1.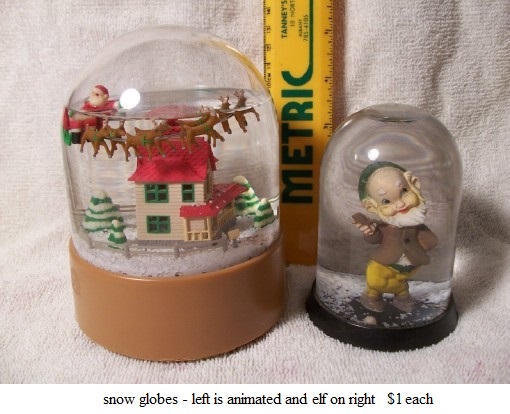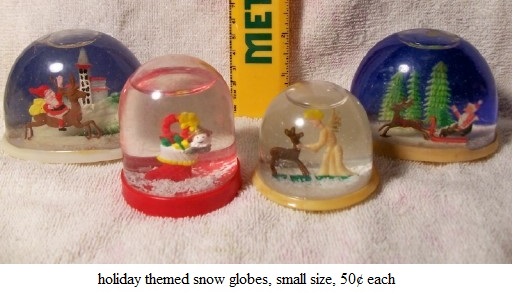 Assorted snow globes with Christmas motifs. Largest one is animated and plays music. All for $4.



Snowmen figurines. Left - votive candle cover, 4" tall. $1.
Right - 6.5" tall ceramic figure with broom and yarn scarf. $1.


Wire mesh basket in the shape of a snowman's head. Ornamants included. $1.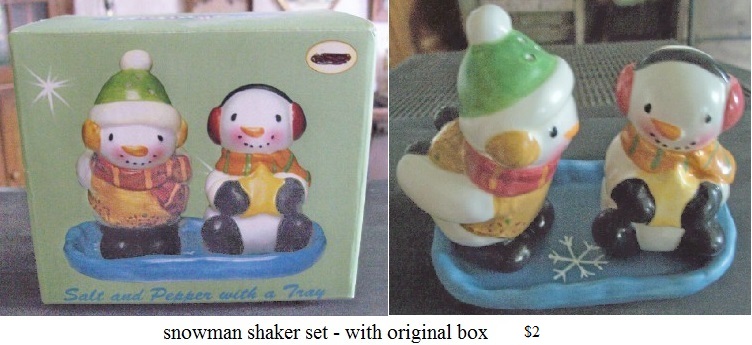 Snowman salt & pepper shakers, with original box. $2.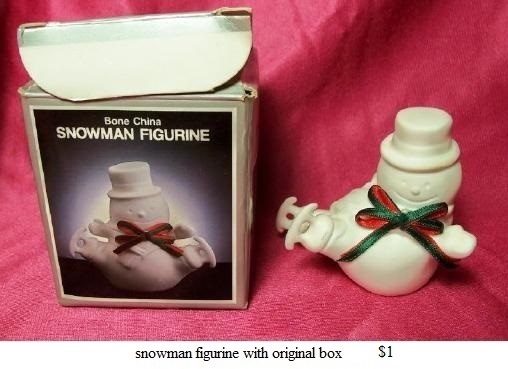 Bisque ceramic figurine. $1.



Hand-made knitted novelty "stockings" depicting an ice skate and a bare foot. Approx. 14" long. $3 each or both for $5.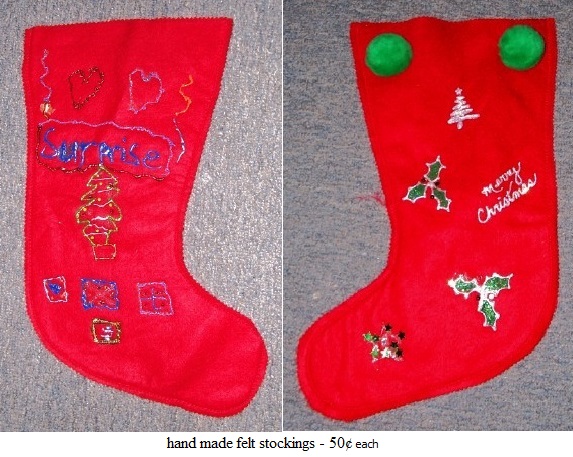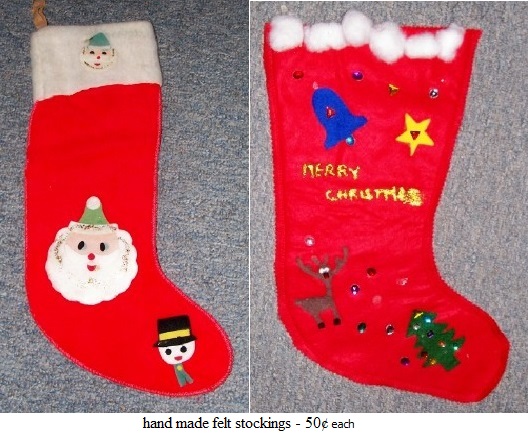 Assorted felt stockings. Prices in photo captions.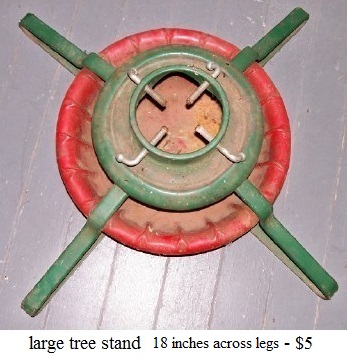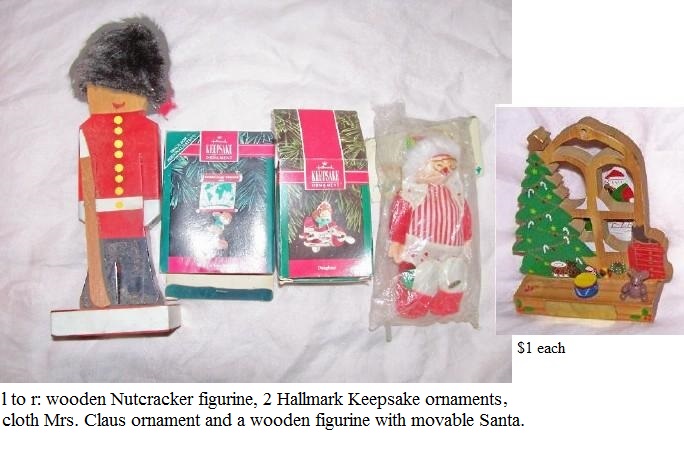 Assorted holiday items, 50¢ and $1.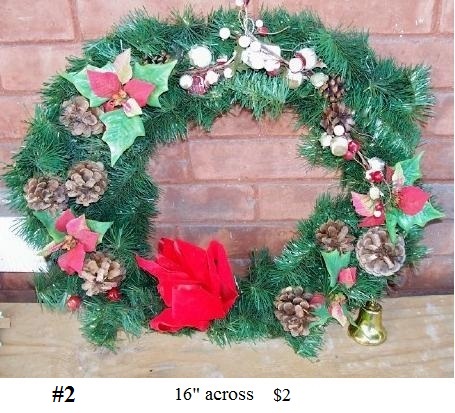 Artificial pine wreath. decorated with mistletoe, pine cones and poinsettias.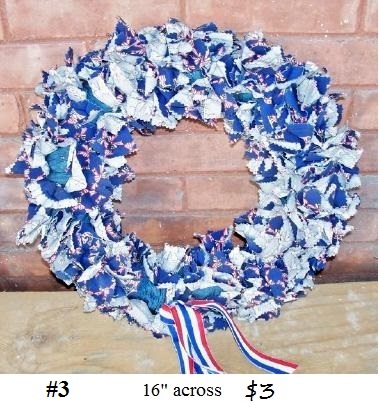 15" wreath made from blue cloth swatches and has a red, white & blue bow.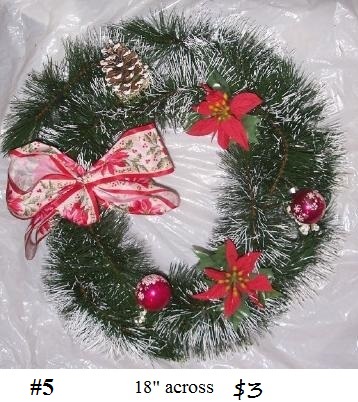 Artificial pine wreath decorated with pine cones, poinsettias, red ornaments and a holly and poinsettia bow.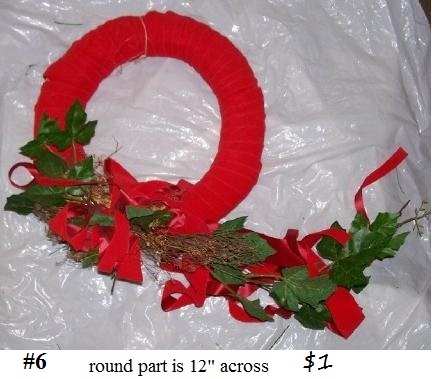 12" diameter straw wreath wrapped in red velvet ribbon with a swag of artificial greenery and red ribbon.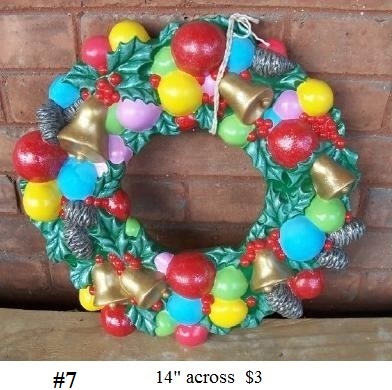 15" ceramic wreath depicting fruits, bells, pine cones and holly.

---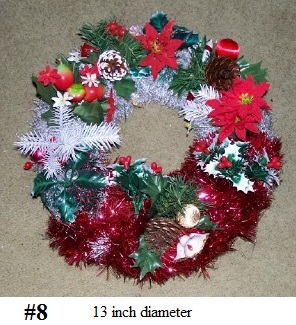 Cane wreath that is 21" diameter with crepe bow.

---
TOYS & GAMES


So You Think You Know Maine - answer trivia questions about the state of Maine and move around the state. $5.



Boggle - make words out of letters on cubes. With timer. $3.



A Question of Scruples - a game of moral dilemmas. $5.




Trivia Adventure - for up to 6 players. $5.



Art is Fun - drawing kit includes colored pencils, wax sticks, markers & paper. By TV artist Conni Gordon. $10. Never used.



Line-O-Art - use pens to fill in stencils to create textured pictures. $3.

EASTER ITEMS



Easter gift bag, Egg decorating kit, window decorations and cardboard foil-covered egg. All $1 each.



---
---
Free Web Counter